Pro Bono
At Randls Training, we are well aware of our social responsibility – that is why we regularly host art exhibitions which can also be held as sales exhibitions, according to the artist's preference. In that case, a part of the price of the sold work is donated to various nonprofit projects which we find necessary in these busy modern times.
We have supported these projects: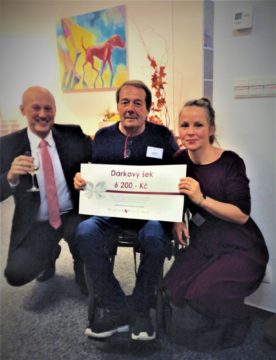 Randls Training exhibitions help REHALB
Artists, whose artworks can be seen by our clients and seminar participants in the Randls Training spaces, will donate 5 % of the amount obtained by selling their exhibited artworks to the REHALB organisation. This non-profit organization introduces patients who have suffered brain injuries back to active life, for example by organizing reconditioning and rehabilitation stays in the countryside or training of everyday activities, or by organising swimming and walking schools. The painter Martina Trchová, whose paintings you had the opportunity to see in our training centre from October 2019 to March 2020, presented a financial gift in the amount od CZK 5200 to REHALB.
The painter Tereza Strnad, whose paintings you had the opportunity to see in our training centre from March to October last year, presented a financial gift in the amount of CZK 6200 to Jan Šisler, the director of REHALB. Randl Partners have long been committed to helping people with disabilities through this non-profit organisation, while Nataša and Pavel Randl recently bought a dynamic verticaliser for REHALB to rehabilitate people who use wheelchair due to illness or injury.
For more information, be sure to visit this site.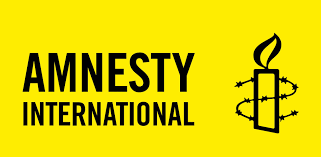 Together with Amnesty International, Randls Training defends human rights and liberty
During the Adam Jílek exhibition, we became a part of the project Art for Amnesty, which connects two worlds – art and human rights. Amnesty International is a non-governmental organization which is famous for its fight for political prisoners and other people persecuted for their opinions. And it is no surprise that it is often the artists, people with creative and critical thinking, who are hunted and imprisoned. Art for Amnesty is a platform which allows artists living in liberty to stand for those who are not so lucky, for artists whose freedom of speech is restricted by repressive regimes, often in very brutal ways.
For more information about Amnesty International, be sure to visit this site.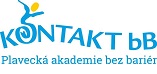 Randls Training supports Kontakt bB Plaveckou akademii bez bariér
We support Plavecká akademie bez bariér (a barrier-free swimming academy) which allows people with various forms of disability to train regularly. Thanks to the Aqua(E)Motion Therapy method, disabled athletes have won over 100 medals at the Paralympics, many world championships and numerous European championships since 1995. Of a special note is the best Czech Junior handicapped swimmer Anežka Floriánková. Besides her success in swimming, she is also a talented artist whose work and activities of Kontakt bB were brought to attention of the guests during the opening of paintings by Radu Tesaro, which took place in year 2018 at Randls Traninig.
For more information about Kontakt bB, Plavecká akademie bez bariér, be sure to visit this site.